Artists In the Schools 2022-23
Water, Wind, Fire and Earth: The California Coast
Water, Wind, Fire and Earth: The California Coast is the theme of GRO's Artists in the Schools program for 2023-24. The theme encourages students to understand how the four natural elements harmoniously give rise to life and matter. 
Approaching the theme through the lens of art making and art processes will yield a new and engaging perspective. The goal is to deepen the students' understanding of their relationship with the environment around them.
Our talented teaching artists come from West Marin as well as the Greater Bay Area. In addition to supplementing art classes the artists will sometimes be making curriculum connections with math, science, English and more.
Occasionally, a pairing will be made between an artist and a naturalist, writer, or poet for additional creative exploration and enrichment. Artists are sent to all five of the schools in the Shoreline Unified School District serving TK- 12th grades.
The culmination of the program ends with a wonderful exhibition of all the students' artwork at Toby's Art Gallery in Point Reyes Station in June.
Gallery Route One's Artists in the Schools Program is supported by The Buck Family Fund of the Marin Community Foundation, the Rotary Club of West Marin, West Marin Climate Action, the Shoreline Unified School District, and donations from people like you.
Meet Jennifer Tesoro Reese, Director Artists in the Schools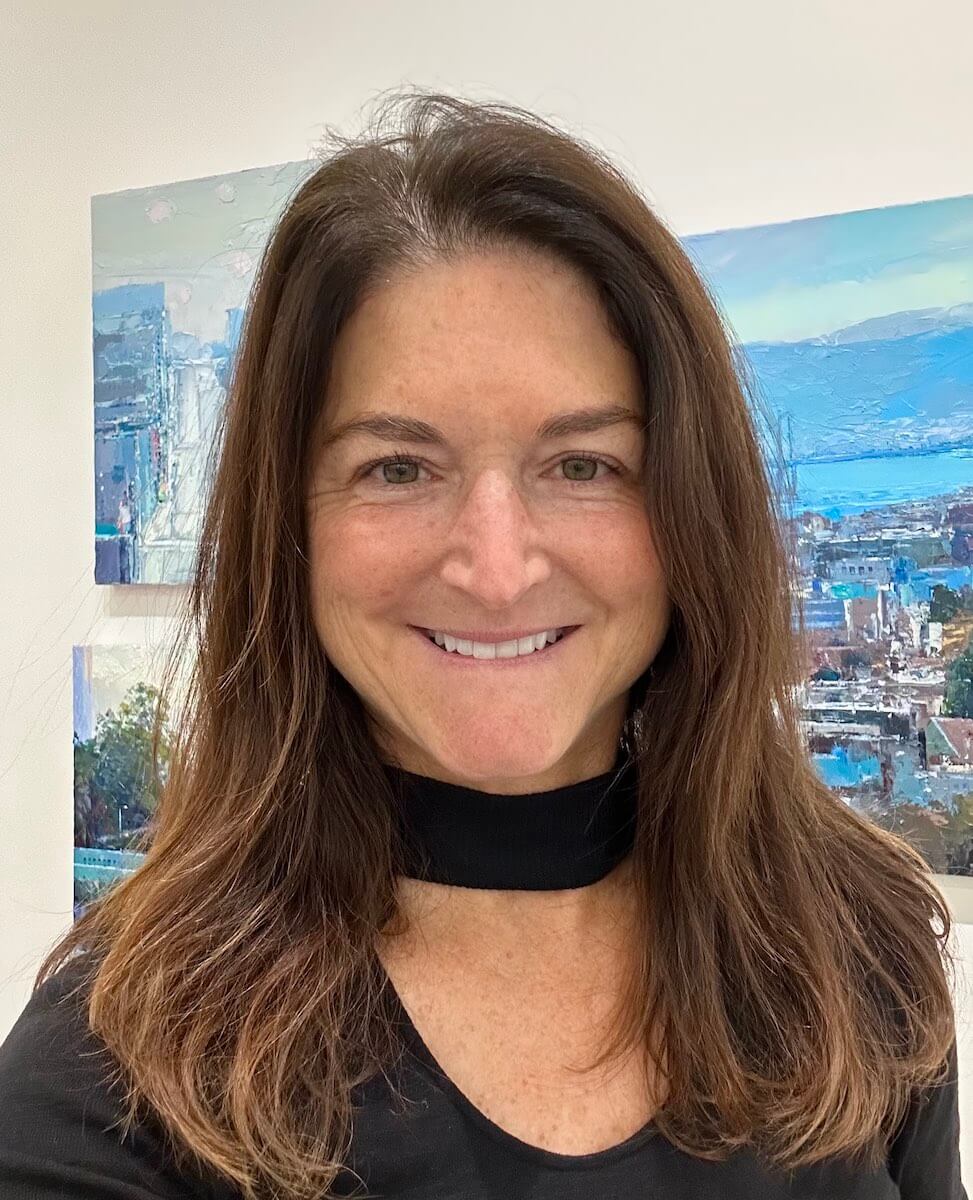 Jennifer develops and directs the Artists in the Schools Program. She manages a team of professional artists who visit the schools in the Shoreline Unified School District. Her intention is to provide students with an enhanced and special opportunity to unlock their creativity while observing the world around them. Jennifer advocates artmaking as integral to students' growth and development.
Jennifer has thirty years' experience in the art world. For twenty years she worked as a museum educator at The Metropolitan Museum of Art teaching K- 12 grades, conducting teacher workshops, giving gallery talks and writing family guides. Jennifer has worked as a private museum guide at SFMOMA where she engaged a wide range of audiences with the museum's collection. Currently Jennifer also works part-time as an art consultant at Desta Gallery in Mill Valley.
Jennifer has a master's degree in art history from Hunter College, City University of New York where she was awarded the Graf Travel Grant to do research in British Columbia for her thesis on the 20th-Century painter, Emily Carr. Her undergraduate degree is from Trinity College in Hartford, CT.
When Jennifer is not working, she is seeking art in the Bay Area museums and galleries and hiking the hills of Marin County.
This Year's Teaching Artists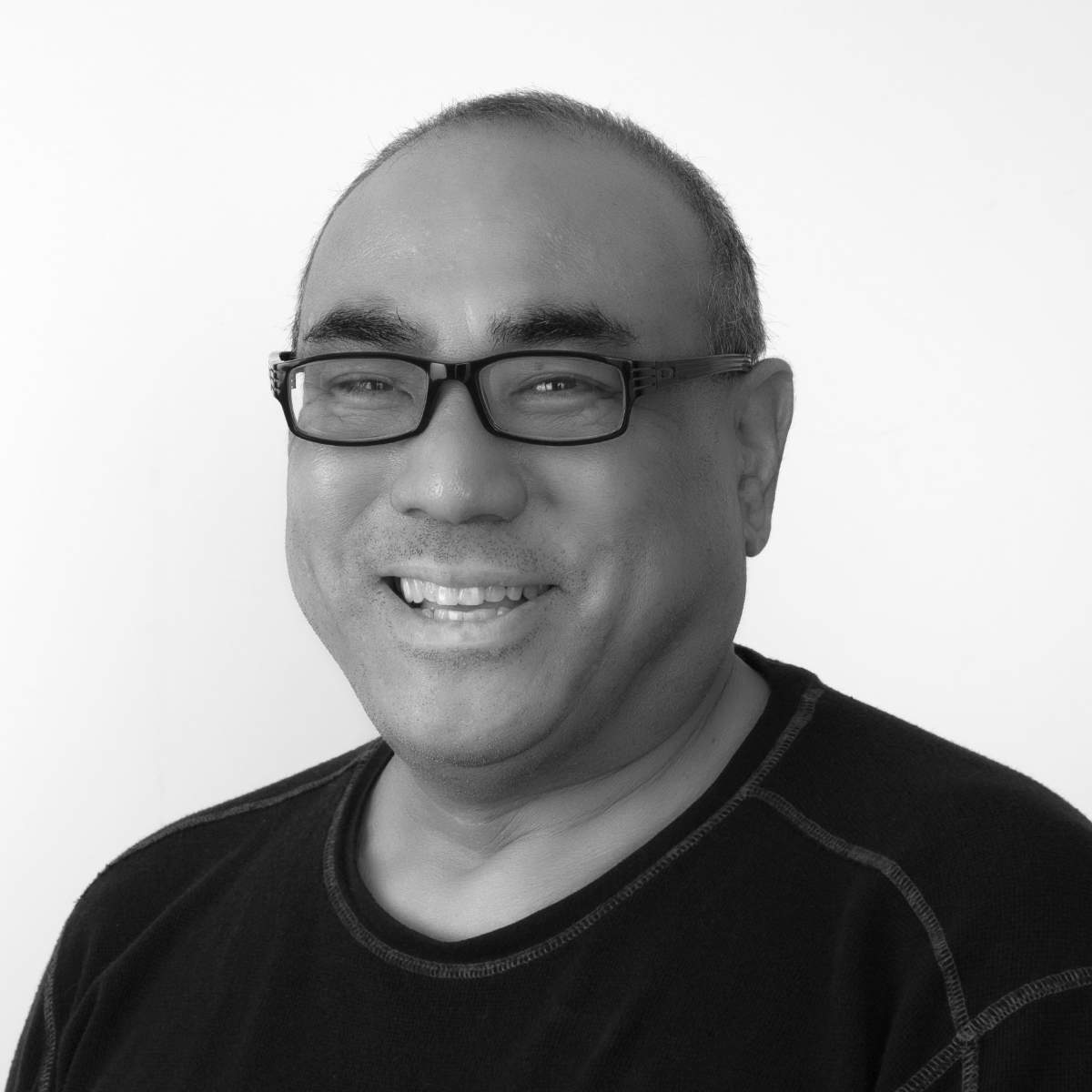 Rob Corder
Rob has been a practicing, professional artist for many decades most commonly associated with education from the beginning. He studied printmaking and painting as an undergrad and upon graduation he worked as an elementary art teacher in a Montessori school in the Bay Area.
After that he moved to Los Angeles to pursue a career in graphic design and illustration where he found enough success to allow him to move back to San Francisco where he worked in advertising, graphic design and illustration for the many decades.
During that time in SF, for 12 years of consecutive semesters, he taught illustration at the Academy of Art University. He has also worked for several years producing graphic design and website collateral for the two Bentley Schools in Oakland and Lafayette.
Rob and his wife currently own a pre-school in the Presidio in SF, where he creates all the graphics and collateral for the school, administration and website. He most recently completed three local public painting projects near his home; including two exterior electrical box projects in Dublin and for the town of Danville, Hearts around Hartz, 2020.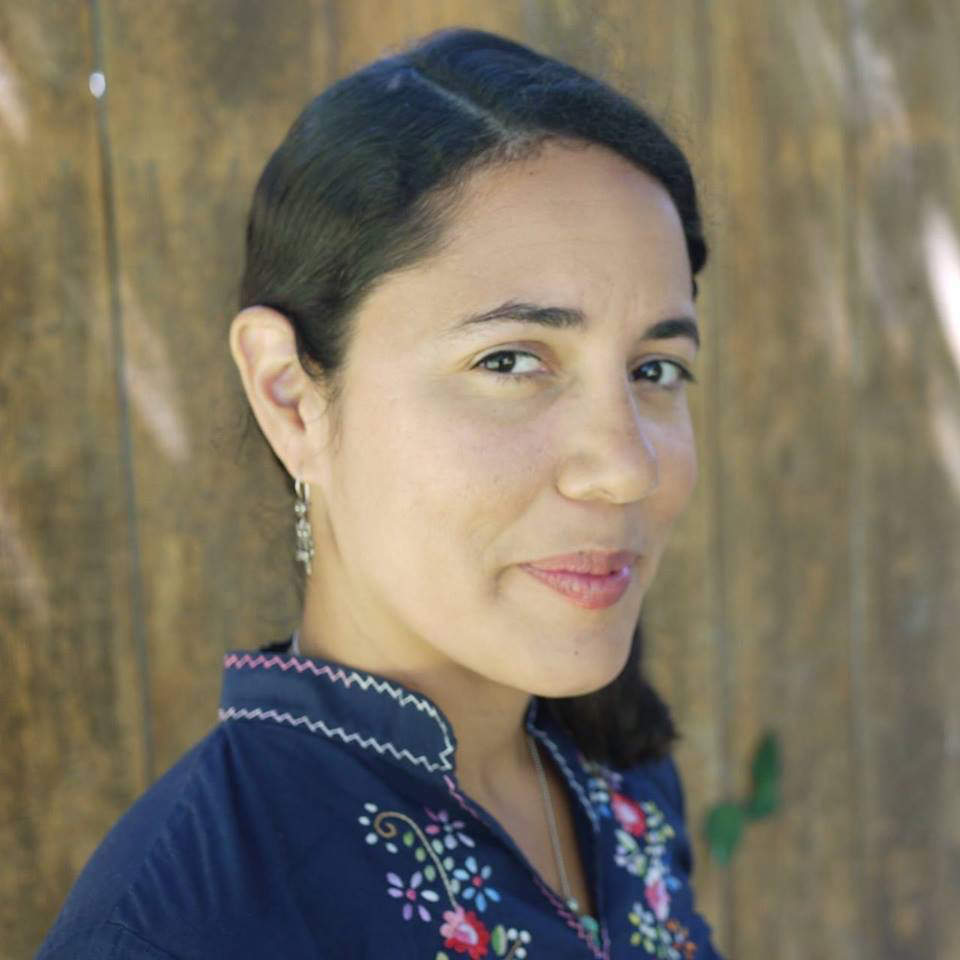 Mela Delgado
Mela Delgado is a professional artist who believes that taking time to make art and being surrounded by it can make you understand yourself, life, and even make the world a better place to live. She earned her BFA from La Escuela de Artes Plásticas de Puerto Rico, and her MA in Museum Studies from John F. Kennedy University in Berkeley, CA. Mela has exhibited her work in Puerto Rico, South Florida and California. She has created private art commissions for homes and local businesses. Mela has volunteered her creative talents to museums and other nonprofits in her community. Currently, Mela works at The San Francisco Museum of Modern Art as an Art Registrar and Visitor Experience Assistant. She also teaches private and public art classes in the Bay Area. In 2016, Mela was chosen as one of the Hearts Sculpture Artist for the Hearts in San Francisco Project by the Zuckerberg San Francisco General Hospital and Trauma Center.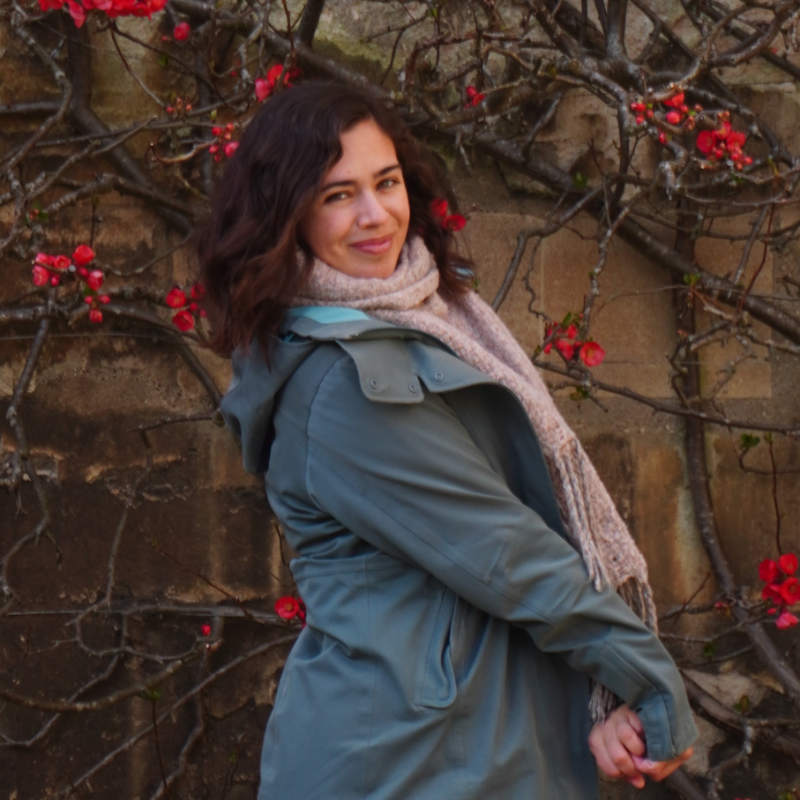 Maxine Flasher-Düzgüneş
Maxine Flasher-Düzgüneş is a poet, dance artist, and former US-UK Fulbright candidate from Mill Valley, California. She serves as a teacher with CalPoets in the Schools, Poetry Out Loud, Shawl Anderson Dance Center, and Big Sky Workshop, where she developed a course entitled "Choreographic Writing" on engaging with the disciplines of choreography and visual art as creative tools for grasping poetic language.
Her ongoing project, strikethrough-score.org, is a digital platform where poets can generate choreographic scores for dancers, and has been exhibited at Noori/TWIG Media Lab, Museum of Wild and Newfangled Art, Mark Foehringer Dance Project SF, and SAFEhouse Arts. Her latest commission as a choreographer was for a feature-length dance film, scene r-eco-ver, exhibited at World Stage Design 2022 in Alberta, Canada. She holds a B.F.A. in Dance from NYU Tisch School of the Arts and an M.A. in Dance Philosophy from University of Roehampton, London.
Visit her at www.poeticabythebay.com.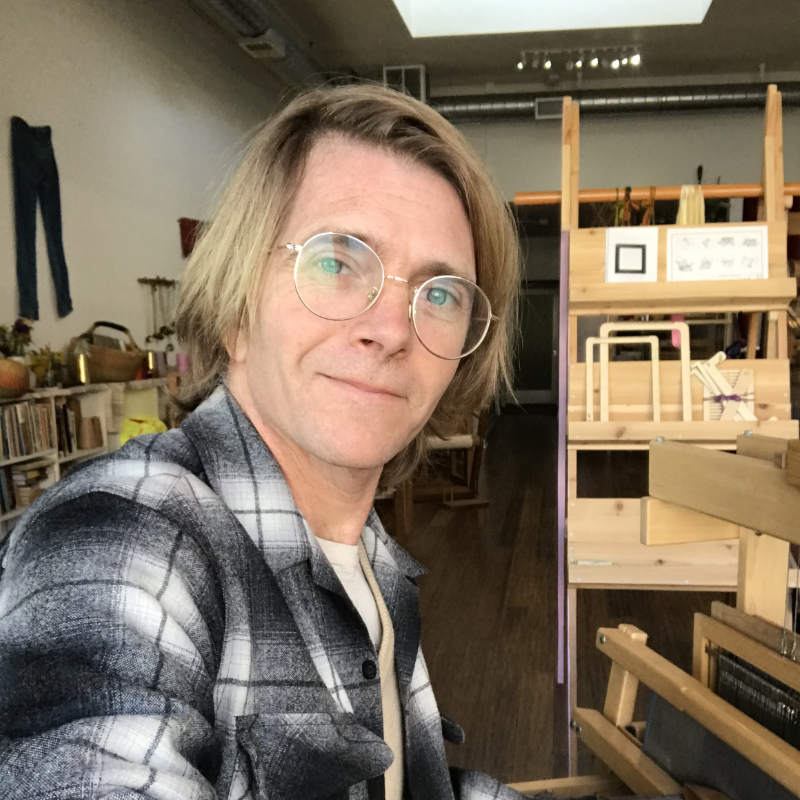 Travis Meinolf
Travis Meinolf is a weaver and textile teacher in the Bay Area, with their own small school in San Anselmo. After earning a Bachelor's Degree in Industrial Arts from SFSU and an MFA in textiles and social practices they spent some years in Berlin further developing a public weaving practice that they continue to explore back home in West Marin. They live with their wife and son in Lagunitas.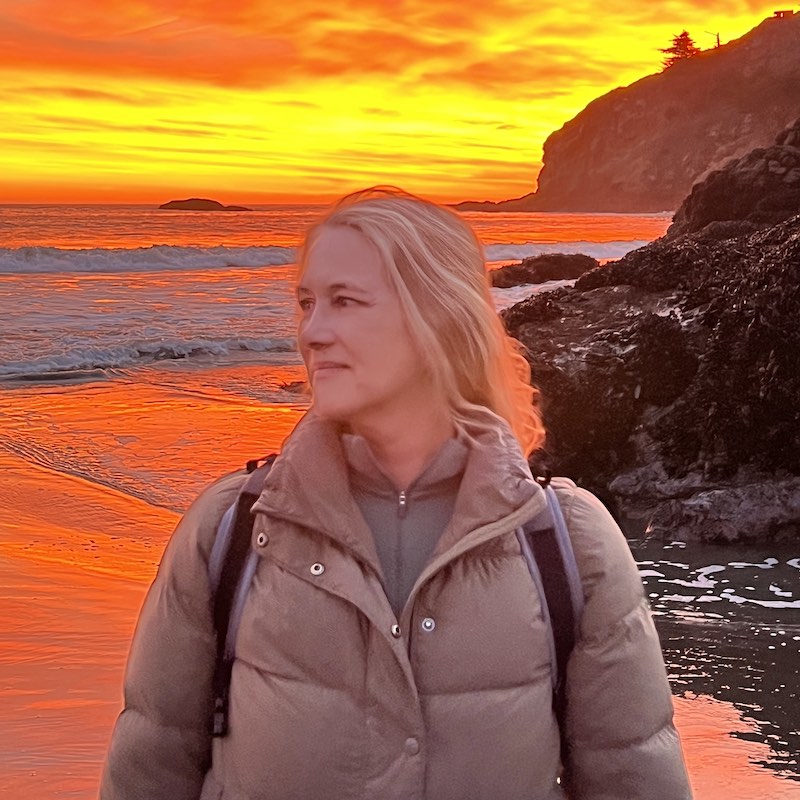 Melissa Parhm, M.F.A.
Classically trained in the United States (MFA, Savannah College of Art and Design University) and Europe, Melissa is a master of traditional drawing, oil painting, and silverpoint techniques. Her work is filled with a devotional reverence for nature with a particular emphasis on studying the effects of light.
Her current silverpoint drawing series titled Upturned Roots: Reflections on the California Droughts and Fires features works inspired by local trees and the elements of water and fire. An active art community member, in addition to exhibiting her and her student's work, she teaches at various schools and art centers from the Bay Area to the San Juan Islands, including working with the Shoreline School District as an Artist in the Classroom. She recently exhibited in the de Young Open Exhibit, On the Edge, 2020-2021.
She entered the Chaplaincy Certificate Program at the Graduate Theological Union in 2022 and is currently showing her artwork at the GTU's Flora Lamson Hewlett Library in Berkeley. She is creating a series of Faerie Illustrations for a children's book inspired by her work for the Horizon Community Preschool Foundation. Melissa donated artwork to the 2021 CovART Challenge, which raised enough funds to provide over 200,000 meals that Flying Kites will work to deliver to children in rural Kenya.
www.melissaparhmfineart.com
mparhm@gmail.com
@melissaparhmfineart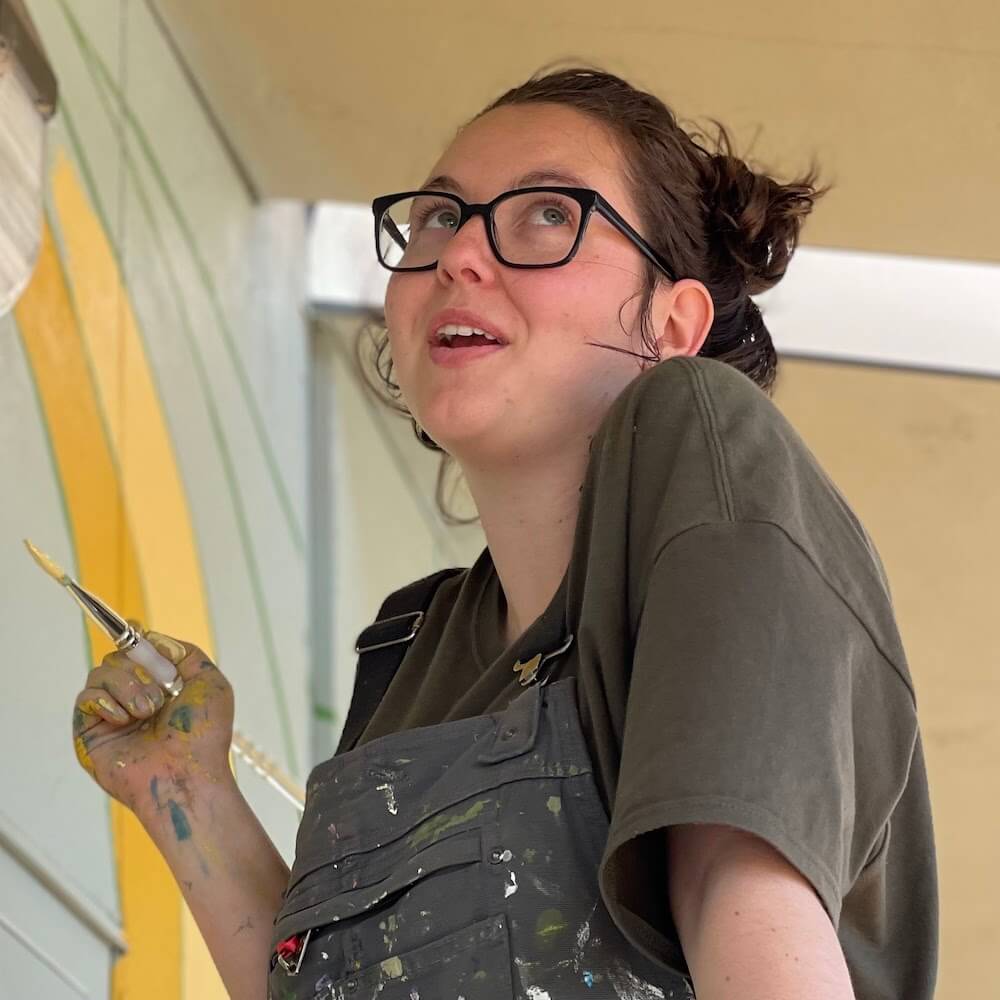 Kaya Rose
Kaya Rose is a muralist and fine artist based out of Northern California. Rose grew up in the small coastal town of Point Reyes Station and lived there up until she pursued her higher arts education at PrattMWP in Upstate New York. After returning home, Rose trained with valued community artists of Sonoma County and began working for Artstart Soco, a public arts and teen mentorship organization. Kaya Rose began a working relationship with Gallery Route One Artists in the Schools program in early 2022. With this new partnership, she was able to bring all the skills she gained out in the world back into her own community.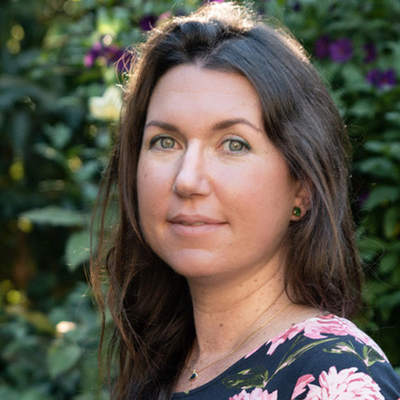 Laurel Shear
Laurel Shear lives and works in the California Bay Area. She opened her first New York solo show, Daydreaming In My Nightmare, at Fort Gansevoort in March 2018. Recent exhibitions include Right Here Right Now, Richmond Art Center and NIAD (Richmond, CA) My Silences Had Not Protected Me, For Freedoms, Fort Gansevoort, (New York), Where Dreams Come True, TSA LA (Los Angeles), Push, Incline Gallery (San Francisco).
She is a former member of the artist run gallery Tiger Strikes Asteroid in Los Angeles. Press for her work includes Artnet, New York Magazine, Brooklyn Magazine, and Luxe Magazine, among others. She facilitates drawing and painting workshops at O'Hanlon Center for the Arts. Shear was a competitive cheerleader, she's an energy medicine practitioner, and a proud mama.
Sandra Wolfson
Fresh from an Artist In Residency in Ireland, Sandra spent her childhood growing up in the National Parks, hiking and living in the Blue Ridge Mountains, the Grand Canyon and MesaVerde. As a result, she explores the complex beauty of the natural world in her work. She is fascinated by the play of light, the overlapping of color, the intricacies of pattern, the variety of texture and the illusion of linear perspective. For Sandra, these abstract qualities are the pathway to study the mystery of life lived amidst the reality of continual change. This is true for art making, mothering, partnering and teaching. Sandra maintains an active drawing, printmaking, collage and painting practice, each of which helps her in generating multi-layered pieces of art that combine, collide and harmonize with each other.
Sandra is currently an artist in resident a KALA, a renowned printmaking studio in Berkeley. Sandra is currently a teaching artist at the College of Marin. Sandra received her MFA in Drawing and Painting from Colorado State and her BFA in Drawing and Painting from the University of Georgia. She's a National Endowment of the Art recipient.
Apply to Become an Artist in the Schools Teaching Artist
Gallery Route One invites artists to apply and participate in the Artists in the Schools Program for the upcoming academic year.
This year, the Artists in the Schools theme is "Water, Wind, Fire and Earth: The California Coast" which lends itself to many creative artistic ideas and fascinating curriculum connections.
Please select the button below to apply. Questions? Send message to: teachingartistsgrogallery@gmail.com