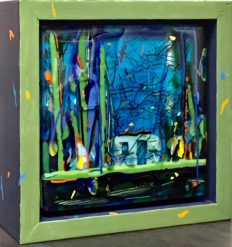 Box 2019 / Jane Kiskaddon
August 2 – September 8
Reception: Saturday, Aug. 3, from 3 to 5 PM
Closing party: Sunday, September 8 at 2 PM
Final Bidding starts at 3 PM
All About Bidding
—starting bid is always $35
—bid in no less than $10 increments
— any bid with name but no phone # is invalid. Email addresses are requested.
—bid by phone ok until 2:30 before the live auction on closing day.
—to bid by phone call Gallery Route One during open hours only
—you may have a proxy bidder during the live auction if you cannot attend.
–-To bid by proxy, the bidder must have a credit card number with all the other required information on file with Gallery Route One, as well as phone number and email address.
The Box Show is Gallery Route One's biggest fundraiser of the year.
Our thanks to the generous Box Artists who donate 100% of the sales price to the organization and our enthusiastic box buyers who take home all those great boxes



Want to see The BOX SHOW™ 2018?
Follow the links below:
SEE MORE BOXES FROM THE PAST:  VISIT THE BOX SHOW ARCHIVES

See Trailers of fun boxes from the past made by La Ronda Bucciarelli