The Gallery Route One Artists in Schools (AIS) program staff are committed to art practice, art history and the applied arts. Environmental education is a guiding principle of our arts program.
This past year, Gallery Route One's Artists in the Schools ( GRO-AIS ) program has offered an environmental arts education program that focuses on the Tomales Bay Watershed through a partnership with the National Oceanic Atmospheric Administration (NOAA)'s Bay Watershed Education and Training program (B-WET). B-WET aims to develop watershed literacy for school-aged children living in coastal communities in California. AIS's role is to bring an interdisciplinary approach to support environmental literacy and art practice, a value which is rooted in the GRO-AIS program.
This theme of the Tomales Bay Watershed will continue to be a focus of study for the next two years. The GRO-AIS staff is coordinated with partner organizations and individuals in the community to explore this principle theme. GRO-AIS provides services to five participating schools.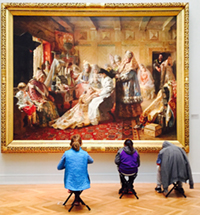 Joe Fox is the new coordinator for Gallery Route One's Artists in the Schools program, replacing Madeline Hope who will continue to work in the program. Joe, who lives in Point Reyes, is also a new artist member of Gallery Route One. Joe recently gave this report...
read more