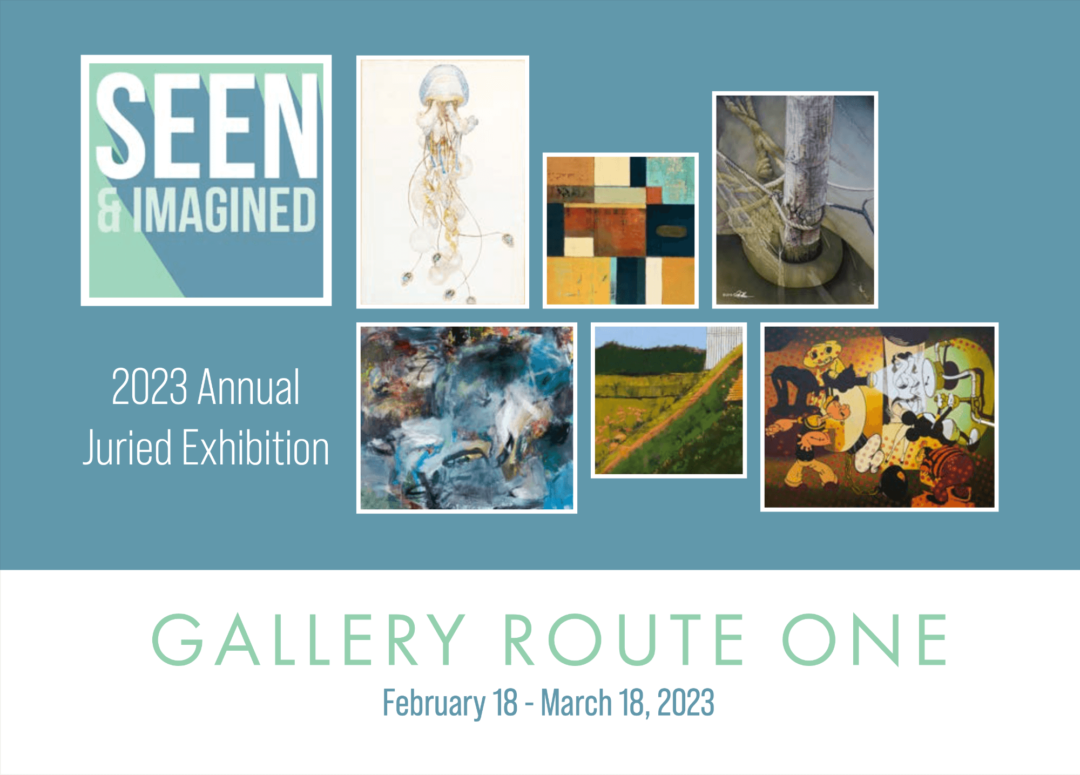 Front (Clockwise, starting from top left): 1) Pauline Busch: Endangered Species 22, 2) Deborah Hall: Havasu Memory, 3) Nelson Hee: Mooring 17, 4) Gary Epting: Smoker, 5) Christine Beirne: i', 6) Helen Cohen: Change in the Air 4
PRESS RELEASES for immediate release:
February 3, 10, 17, 24 and March 3
Contact Lisa Foote at lisa@galleryrouteone.org or 510.730.0594
Download Press Release PDF
PLEASE NOTE: GALLERY ROUTE ONE FOLLOWS CURRENTLY RECOMMENDED COVID-19 SAFETY PROTOCOLS. Masks are encouraged.
GALLERY ROUTE ONE EXHIBITIONS:
Seen and Imagined: 2023 Annual Juried Exhibition
On exhibit Saturday, February 18 to Saturday, March 18
In-Person Opening Reception: Sunday, January 8, 3-5 P.M.
The gallery is open to visitors Thursday to Monday, 11 – 5
The exhibition will soon be viewable online: www.galleryrouteone.or
Gallery Route One 2023 Annual Juried Exhibition: Seen and Imagined
Juror: Jeremy P.H. Morgan, faculty member of the Lucid Art Foundation, California, Visiting Professor at Shanghai Academy and the China Academy of Art, Hangzhou.
SUMMARY:
Gallery Route One presents the 2023 Annual Juried Exhibition, "Seen and Imagined," featuring work by seventy-nine artists in a diverse range of media including painting, collage, etching, photography, mixed media, and sculpture.
---
Honoring a vibrant tradition which began thirty-seven years ago, GRO is pleased to announce its 2023 Annual Juried Exhibition of two and three-dimensional art, Seen and Imagined. The theme for this year's exhibit draws on the interplay and confluence between the inner and outer worlds, and how reality cannot be defined in concrete terms. Artists were asked to submit works reflecting the ways in which they recreate the world around and with themselves.
Juried by artist, educator, and Lucid Art Foundation Vision Board member, Jeremy P.H. Morgan, this exhibit presents an extensive array of media, ideas, and art processes. The diverse range of media in the exhibit includes painting, etching, photography, mixed media, and sculpture from seventy-nine contributing artists.
Included in the exhibition is the artwork of Laura Abrams, Mark Aronoff, Susan Aulik, Sheldon Bachus, Marcia Balian, Johanna Baruch, Christine Beirne, Holly Blake, Jennifer Braman, Megan Broughton, Paula Busch, Jan Buscho, Helen Cohen, Christina Conklin, Amber Crabbe, Natalie Craig, Ian Day, Michelle Derviss, Riti Dhesi, Jeff Dunn, Dale Eastman, Michelle Echenique, Kathleen Edwards, Gary Epting, Diane Fenster, Christiana Ferroggiaro, Gael Fitzmaurice, Paul Ford, Michael Gabriel, Shelley Gardner, Marilyn Geary, Tom Gehrig, Chris Gibbons, J.M. Golding, Deborah Hall, Jenny-Lynn Hall, Peter Hassen, Karl Hauser, Nelson Hee, Jenna Hobbs, Steven Hurwitz, Irene Imfeld, Lisa Kairos, Britta Kathmeyer, Betsy Kellas, Jeff Key, Jane Kiskaddon, Marian Leff, Lisa Lightman, Linda Maki, Diana Marto, Arline Mathieu, John McDonald, Eileen Moderbacher, Meredith Moles,Dean Moniz, Ariel Mulvaney, Rene Owen, Maria Pazos, Rik Ritchey, Deborah Salomon, Natasha Selfridge, Mary Sheft, Mimi Sheiner, Emily Shepard, Frederick Smith, Charlene Steen, Candace Swimmer, Patricia Thomas, George Tomberlin, John Torrey, Paulette Traverso, Bette Trono, Victoria Veedell, Ellen Vogel, Adrienne Weiss, Eric Whitten, Emil Yanos, and Petr Zaytsev.
Gallery Route One continues to offer a professional venue for artists and visitors alike and has been a vital force in West Marin since 1983 through contemporary shows and community outreach.
---
About Gallery Route One:
A regional landmark since 1983, Gallery Route One is a nonprofit arts organization located in the town of Point Reyes Station, adjacent to the entry for Marin County's Point Reyes National Seashore. Besides offering rotating exhibits by member artists, GRO also maintains its outreach programs: the Latinx Photography Project, the Artists in the Schools Program, the Artist Fellowship Program, as well as Visiting Artist Program exhibitions in the Project Space addressing environmental, immigration and social justice issues.