Co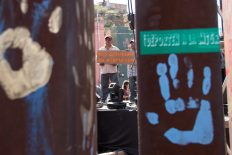 ntact: Vickisa: 415/868-0931 / vickisa@aceweb.
Peg Hunter: Confronting Borders
Friday, November 17 – Sunday, December 23
Opening Reception: Saturday November 18th, 3 – 5 PM
Artist Talk with Peg Hunter: Sunday, Dec. 2, at 3 PM
"In a line in the desert, in one's mind, in one's home… The Border can appear anywhere."  – John Gibler at the Nogales border wall
As part of GRO's Social Justice series, photographer Peg Hunter's Confronting Borders shows us some of the ways people are organizing and coming together in opposition to the forces that want to separate them—from those rallying at border walls and airports to challenge decisions imposed from above, to those forcing difficult conversations about racism and privilege. It is a look at people intent on understanding historical aggressions and suffering, and on seeing each other's humanity and finding ways to move forward with respect. Confronting Bordersis a visual homage to the powerful human desire for expanded community and common ground in a world that seems immersed in conflict and separation.
Peg Hunter is a documentary photographer focused on immigration, social justice, climate justice and the health of families, communities and the planet. She comes to documentary photography after decades of work in the visual effects industry, both locally at Industrial Light and Magic and in New Zealand. She has a BFA in Film/Video from California Institute of the Arts. Her photography has been published in Yes! Magazine, The San Francisco Examiner, East Bay Express, IMM-Print, Common Dreams,Truthout, Grist, Food & Water Watchand Earth Island Journal. Hunter has followed immigration issues since the mid-2000's, volunteering several summers with the humanitarian group No More Deaths, whose mission is to prevent deaths and suffering in the Sonoran Desert north of the border in Arizona.
Peg Hunter: journal.rawearthworks.com
Concurrently in the gallery:
Igor Sazevich: Significance in my Coffee
Johanna Baruch: Here | Everywhere