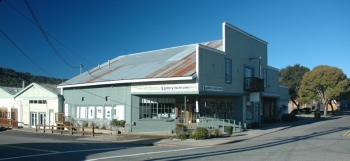 Our Mission
To originate and present contemporary art exhibitions, educational programs and community outreach in order to inspire people to experience the world in new ways.
Who We Are
GRO was founded by 25 artists in 1983, and currently maintains a membership of 20-25 artists. Our Board of Directors is drawn from interested community members, including artists. The organization supports two exhibition programs: member exhibitionsand Project Space exhibitions, which feature guest artists. The Annex, a small, interior space also exhibits work by member artists.
GRO presents art in all media, including installation, but does not regularly show crafts. Other GRO events include panel discussions, slide talks and two community outreach programs: Artists In the Schools and the Latino Photography Project. Artist members support the organization and its projects by paying monthly dues and by doing volunteer work, including staffing the gallery. GRO is also funded by its Partners in Art and contributions from the community. The Latino Photography Project is supported in part by a grant from the Marin Community Foundation.
Betty Woolfolk, Executive Director; Mary Mountcastle Eubank & Zea Morvitz, Project Space Co-Administrators; Nancy Bertelsen, Latino Photography Project Coordinator; Madeline Hope, Artists in the Schools Administrator.
Board of Directors
Toni Littlejohn, President; Elizabeth Fenwick, Vice President; Sarah Lerer, Paula Linton, DiAnn Montemayor, Cindy Ohama, Eileen Puppo, Julie Siegel, Sean Vogt