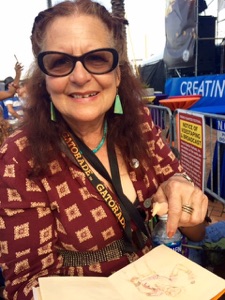 Vickisa exhibits widely and is a member of Gallery Route One (GRO) in Point Reyes Station where she shows her work and promotes GRO's art shows and events. She uses many media including acrylics, watercolor on silk, gold leaf and collage. She makes unique handmade accordion books, featuring drawings, descriptions and collage of events that are often of a musical nature. Drawing from life models is an integral part of her life.
Having attended Bard college, Vickisa pursued her BFA at the University of Arizona and was awarded her Masters degree at the San Francisco Art Institute. Vickisa is also host of Coastal Airwaves on KWMR local Community radio. Streaming on KWMR.org  you will find Vickisa settling into conversations with people who  love what they do. Because she loves what she does, Vickisa is keen to explore the topic with those who are fortunate enough to do the same.
Vickisa is a dedicated volunteer  with her local Fire Department and an Emergency Medical Technician.