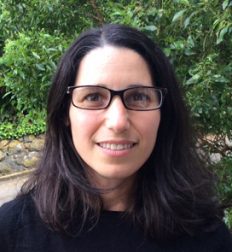 Holen Sabrina Kahn is Gallery Route One's new Executive Director.
A filmmaker and visual artist, Holen's award winning documentaries creatively explore ethical acts and ideas of individual agency. She also exhibits more whimsical photographic and installation work in galleries and site-specific venues.
Holen taught university and graduate courses at City University of New York, and the University of California, San Diego. She has served on boards and artist councils, and has worked with non-profit arts organizations including the Banff Centre for the Arts, the New York Foundation for the Arts, and Virginia Center for the Creative Arts.  From 2009 to 2013 Holen was Director for Educational Innovation at the Jacob Burns Film Center in Westchester, NY where she designed and implemented a visionary program for their Media Arts lab, and a comprehensive literacy framework for viewing and producing visual culture.
During the past 20 years Holen co-founded the MadCat International Women's Film Festival in San Francisco, and organized Art Symposia at the Chicago School of the Art Institute and the Chicago Museum of Contemporary Art. Other projects include a participatory video project in a Harlem garden, and digital opera with fourth graders at a NY public school.
Holen was a Research Fellow at Yale University, a Fellow at the Whitney Museum's Independent Study Program, and holds an MFA from the School of the Art Institute of Chicago.
Holen and her husband moved to Inverness a little over two years ago. She loves runs in Bear valley, baking slow ferment breads, summer evening swims in Tomales Bay, and feels lucky to call West Marin home.