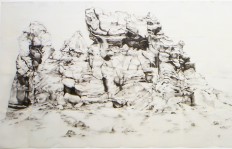 Gallery Route One is pleased to welcome Afton Love and Isis Hockenos as new Artist Fellows for 2016-17. Both artists have strong ties to West Marin. Isis Hockenos grew up in Marshall, her father, Rob Hockenos was a founding member of Gallery Route One. Afton Love, who spent her childhood summers in Inverness, writes "the land around GRO is in my bones".
This is the third season of the Fellowship Program wherein two artists between the ages of 21-35 are selected on the merit of their work. The Senior Fellow and the Emerging Fellow enjoy the same privileges as Artist Members, are offered solo exhibitions in either the Center Gallery or the Annex, and are included in our collaborative process.
Both Artist Fellows are participating in the Artist Members' Show which opens this Sunday. Look for their solo shows in 2017.
Above: Afton Love, Plaza Blanca, detail