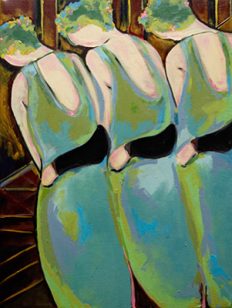 Gallery Route One presents Isis Hockenos as new Emerging Artist Fellow for 2016-17.  Isis Hockenos grew up in Marshall; her father, Rob Hockenos was a founding member of Gallery Route One. Isis is spearheading a pop-up show Gallery Route One and West Marin artists at the Midway in San Francisco in 2017.
This is the third round for the Fellowship Program which selects two artists between the ages of 21-35 to join Gallery Route One's artist members for one year. The Senior and the Emerging Fellows enjoy the same privileges as Artist Members, are offered solo exhibitions in either the Center Gallery or the Annex, and are included in our collaborative process.
Afton Love, Senior Fellow for 2016-17 spent childhood summers in Inverness, has been working hard at a residency in New Mexico.